Thomson Reuters' new survey report on the impact of AI on professionals makes the case for cautious positivity. Here are highlights from "How AI is the Catalyst for Transforming Every Aspect of Work."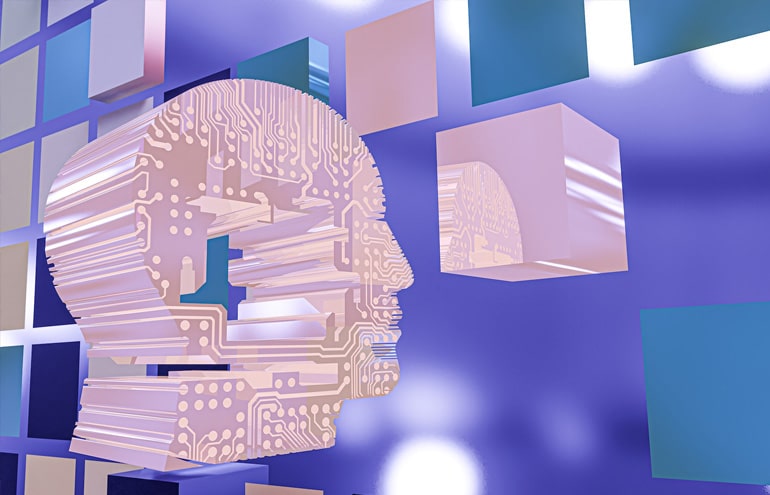 What macro trends will have the biggest impact on the legal profession in the next five years? In Thomson Reuters' newly released survey of 1,200 legal and tax professionals, more than two-thirds of respondents said artificial intelligence and generative AI will cause either "transformational" or "high-impact" change to their profession. From their perspective, AI will have more impact than the economy, an explosion in data, or even ESG — and by a pretty wide margin.
Impact of AI on Professionals: A Catalyst for Good or Ill?
"Future of Professionals Report: How AI is the Catalyst for Transforming Every Aspect of Work" is the latest special report out of Thomson Reuters' Future of Professionals project. It is based on a survey of more than 1,200 people working in the legal, tax and accounting, global trade, risk, and compliance fields who are employed at firms, corporate in-house departments, and government agencies based in North America, South America and the United Kingdom.
The wide-ranging report tackles three main topics:
Productivity — Identifying priorities for the next 18 months to 5 years and ways AI can help professionals reach their goals.
The New Value Proposition — AI's impact on human talent, new roles and skills requirements.
Building Responsibly, considering mental health and well-being along with ethics guardrails.
Ways AI Can Help Lawyers Reach Their Goals
When asked where AI had the most potential to help firms meet their goals — and if AI would hinder progress in the same areas — the report shows mostly "net-positive" impacts. That is, more respondents were optimistic about AI's ability to help them, say, expand into new markets than are pessimistic about AI stealing their lunch. The chart below shows law firms' and legal departments' top five priorities and goals for the coming 18 months.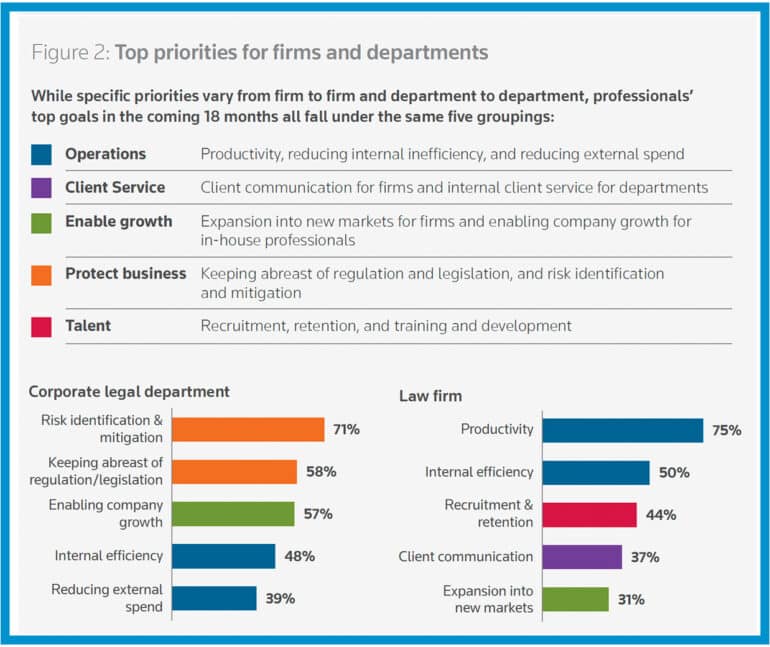 Operational goals rank high in both law firms and legal departments. Law firm respondents pointed to productivity and efficiency as their top two goals, followed by recruitment and retention, improved client communication, and expansion into new markets. Respondents said they are optimistic about AI saving them time by conducting large-scale data analysis and by performing administrative work with greater accuracy. The hope is that productivity gains like these will allow fee earners to make greater billings, even with reduced rates, because they can focus more attention on billable work.
Also a plus: "AI could help capture time and billing more effectively where we tend to forget to enter time entries now," said one survey respondent. Survey authors also suggest that AI "has the potential to help legal professionals at firms recapture revenue that is currently lost in write-offs because of inefficiencies within the practice."
All this freed-up time opens space for achieving growth goals as well. Not only do AI capabilities allow for launching new advisory services or expanding into new markets, but AI can potentially free up time to identify and evaluate attractive markets for expansion. 
Of course, we've been hearing about how technology frees up law firm owners to spend time on [insert your priority here] for decades, and some skepticism is warranted. Indeed, a sizeable percentage of survey respondents said AI will make their work day longer, at least in the near term.
AI will lead to new services and pricing models. One of the most interesting discussions inspired by generative AI is whether it will lead to the final demise of the billable hour, especially given the prospect of new services and new pricing models. While this report doesn't address the billable hour directly, 74% of professionals surveyed said they believe new pricing structures will materialize over the next five years, with almost one-third (32%) saying they expect these structures to surface within the next 18 months.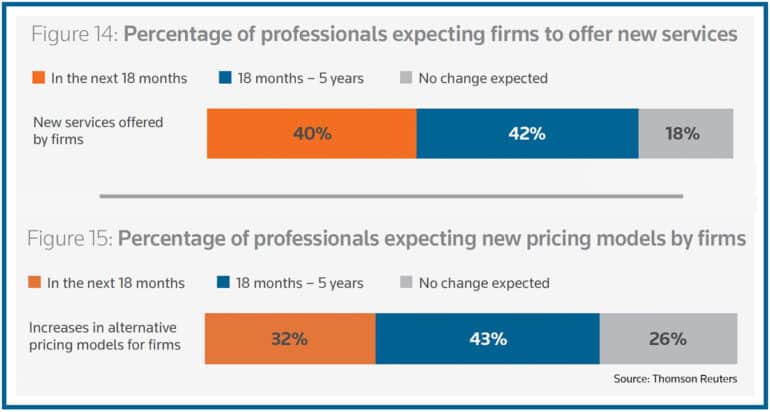 As for gains in client communications, respondents pointed to several ways AI can add value, including:
Keeping clients in the know. (According to one respondent, "AI can assist with identifying client needs and impacts of changing regulations and legislation much faster than we have been able to identify these needs and impacts through manual practices.) 
Improving readability. (For example, translating complex information into layman's terms.)
Law departments were also optimistic about AI's ability to help them protect their business — keeping them abreast of changes in the law and regulations and identifying risks. But the report cautions. that AI brings its own risks around fraud.
Despite headlines about robot lawyers, in terms of talent demand, optimism is afoot: 64% of respondents said they see a rise in the appreciation of their professional skills. And, both senior and junior lawyers have great expectations of more bandwidth to devote to high-level work. On the flip side, one-third of respondents (33%) see AI leading to the demise of their profession and their skills no longer in demand.
How AI can enhance and empower human talent is the focus of the report's second section.
Who Does the Work? Shifting Roles
How will roles evolve once AI becomes a fixture in the workplace? In addition to new careers, respondents expect to see an increase in non-traditional work roles — including those that do not require a J.D. or other credentials. As traditional legal tasks become easier to handle, it follows that certain tasks will shift to a paralegal or more junior, non-credentialed professional. Two-thirds of respondents expect this to happen between the next 18 months and five years.
As roles shift, so will training and development requirements.
Training was one of the biggest areas of consensus. Nearly 90% of respondents said they expect basic mandatory AI training for all professionals over the next five years. In addition, 87% said they believe everyone will need training on new skills, with the majority (55%) saying these needs may not show up for another 18 months. At the same time, over two-thirds of professionals said they see a change in how junior professionals will need to be trained as well as a change in the nature of university or college training in the same time frame.
Of course, the reality of changing the education system is sure to squelch some of this enthusiasm. And, as the report notes, seasoned professionals who have invested years to earn their credentials will be discouraged once they realize how much training it will take to acquire these new skills.
Expect a mismatch of skills to create barriers to progress, at least in the mid-term.
Clearly, AI will impact law firms' and legal departments' approach to recruiting and training. For one, the talent mix will change, the report says. While the overall number of professionals will increase, research indicates a "slight preference in forecasting a decline in entry-level positions."
Fulfilling the Promise of AI: Best Hopes, Biggest Fears
The last section of the report addresses underlying concerns about the impact of AI on professionals: ethics and regulation; mental health, well-being and work-life balance — including increased pressure; and job loss and feelings of disposability.
As Thomson Reuters CEO Steve Hasker says in the survey's launch video: "Through the application of AI to perform more mundane tasks, professionals have the unique opportunity to address human capital issues such as job satisfaction, well-being, and work-life balance. This will in turn unlock time for professionals to focus on complex work that adds value to their client's needs."
Skeptics among the respondents worried about "freed-up time" materializing, with more predicting longer working hours than shorter working hours in the short term. But, on the optimistic side, far more predicted shorter hours than longer hours 18 months to five years.

When asked to name their biggest hopes for the impact of AI on professionals, not surprisingly, productivity — also law firm's top priority — ranked No. 1.
The top four hopes for the impact of AI on professionals are:
Overall productivity and efficiency at work is improved.
Professionals are freed up to focus on high-level work (eliminating mundane tasks).
Accuracy is improved.
The big problems in legal, tax, risk, compliance and fraud are solved. 
To wrap up the report, respondents were asked to imagine how they would feel if a time traveler from 10 years in the future told them AI would become ubiquitous in their profession. One in 10 professionals equated this scenario to a zombie apocalypse, but slightly more said it would feel like winning the lottery.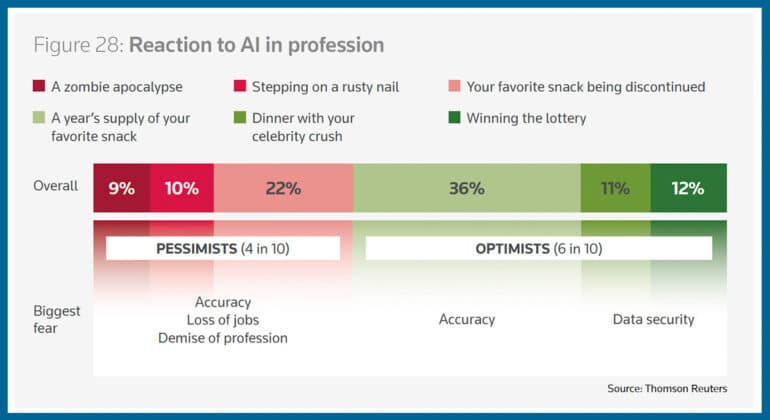 The most common position on AI's impact on the profession? Cautiously positive.
Most said they plan to stay in the profession, despite fears they may have, and 6 in 10 remain optimistic about the impact of AI.
In closing, the report says:
"When asked about their worst fears about what AI will bring to their profession, the optimists focused more on immediate practical challenges, such as data security, and pessimists worried more about job loss. It is important to acknowledge the pessimists' view — that AI and the drastic amount of change it will bring has real downsides that need to be mitigated. However, these are not deal-breakers. There will always be resistance to change, of course, but our research clearly shows an optimistic outlook for AI to potentially make changes for the good."
Download the complete special report at ThomsonReuters.com, here.
Photo by Steve Johnson on Unsplash
Image © iStockPhoto.com

Don't miss out on our daily practice management tips. Subscribe to Attorney at Work's free newsletter here >