Omnizant Review: Access more creative templates, featuring thoughtful and truly innovative designs, that look different from generic law firm sites.
The trouble with templates, is similar to the trouble with tribbles – it's that they begin to replicate uncontrollably, and with relatively little diversity.  So, what you end up getting, when you're buying a template website as a law firm, is the same, lame website that 100s of other law firms have.  One solution to that problem would be to access more creative templates, featuring thoughtful and truly innovative designs, that look fundamentally different from those generic sites.
So, who's designing really interesting law firm website templates that can unironically stand out from the crowd?  Who's the veritable Vincent Van Gogh of template website design?  Fred Cohen (with both ears, at last check) and his team at Omnizant, are giving it a shot, with a new service offering: OneFirst Legal.
(Here's a slight digression, if the name 'Omnizant' does not ring a bell for you: Fred Cohen was the founder of ZolaSuite (case management software) and Zola Media (design services).  ZolaSuite was acquired by Caret Legal (formerly Abacus Data Systems); and, Zola Creative has become Omnizant, the provider of OneFirst Legal.  Maybe Fred has a bet with his friends that each new company he founds has to have a 'Z' in the name somewhere; I can neither confirm nor deny.  But, that's how we got here; and, this sort of exploration has become increasingly relevant given the volume of transactions in legaltech since 2020.  The point being: this isn't the first rodeo, for these folks.  And, now: back to the OneFirst Legal product review.)
Omnizant's latest product is OneFirst Legal.  OneFirst is a subscription-based law firm website program.  Now, this is not your average website design offering, because it's actually a holistic package.  The way it works is that the law firm selects from template website options – which can feature certain customizations, as well – select and launch one.  Then, instead of paying a significant upfront amount to get a website designed, the law firm pays a small setup fee, plus a monthly recurring fee, to access the website management tool.  In the case of Omnizant, both the set up fee and the monthly subscription rate is $199 – which is a whole lot cheaper than the $8-$10k that represents the cost for designing a 'coded' (custom) website.  This sort of product offers significant appeal to law firms, that wish to acquire fast access to easy-to-update and manage, turnkey websites.  Oh, and the websites in question are glorious.
First Among Equals: OneFirst Legal Websites Feature Unique, Modern Designs
OneFirst Legal endeavors to offer law firms template websites that don't look like your average template website designs.  Lawyers have become increasingly interested in the templated, subscription law firm website model, in part because the buy-in cost is much lower than it is for purchasing a traditional, custom-designed website, the price for which has gone up significantly, since the pandemic.  Of course, when you're buying off the rack like that, it may be that everybody knows you've got the same Target tshirt that everyone else does, making you look a little less than impressive than you think.
So, OneFirst Legal has created more artistic, modern law firm website templates, with rounded images, overlayed color schemes, and the reduction of pixelation (when zooming in) via retina resolution-like technology.  Now, that may not mean a whole lot to you; but, the takeaway here is that, by using innovative new design techniques, OneFirst websites look a whole lot better than the alternatives.  When I was talking with Fred about his new product, he spent about 5 minutes talking to me about how much he loves a good door handle design – after I woke up, I realized that he knows more about and better appreciates the sorts of useful and striking design elements than the average lawyer does, or wants to.  This is precisely the kind of person you trust with website design.
But, don't take my word for it; check out some on the initial designs: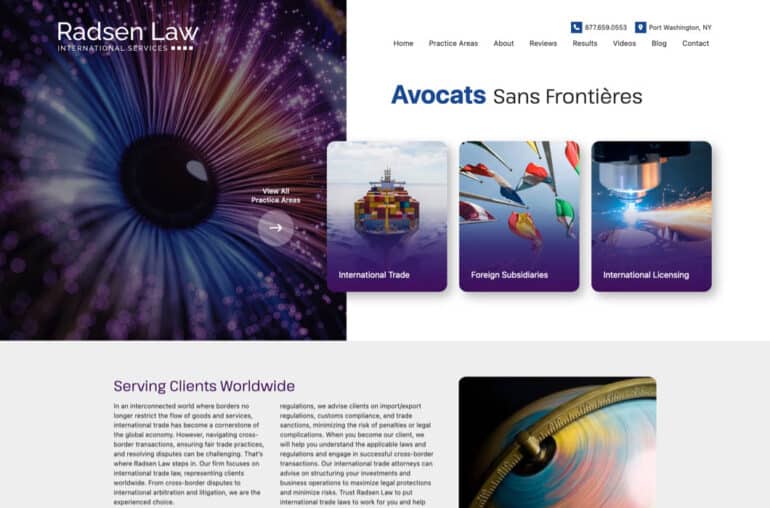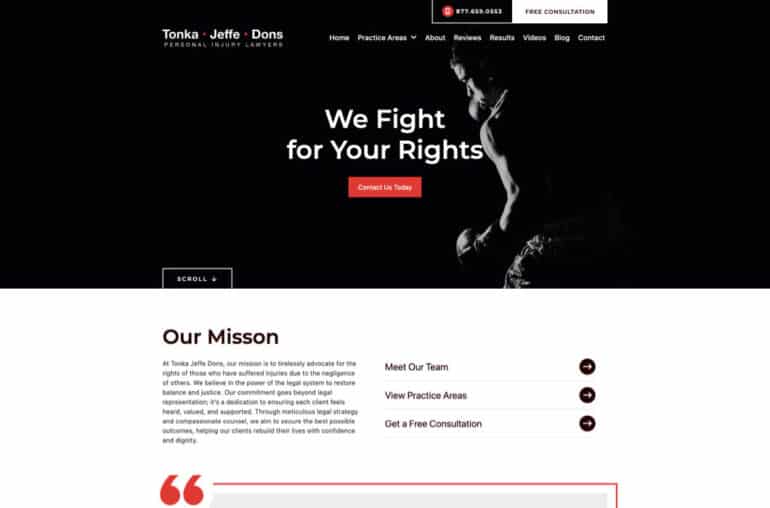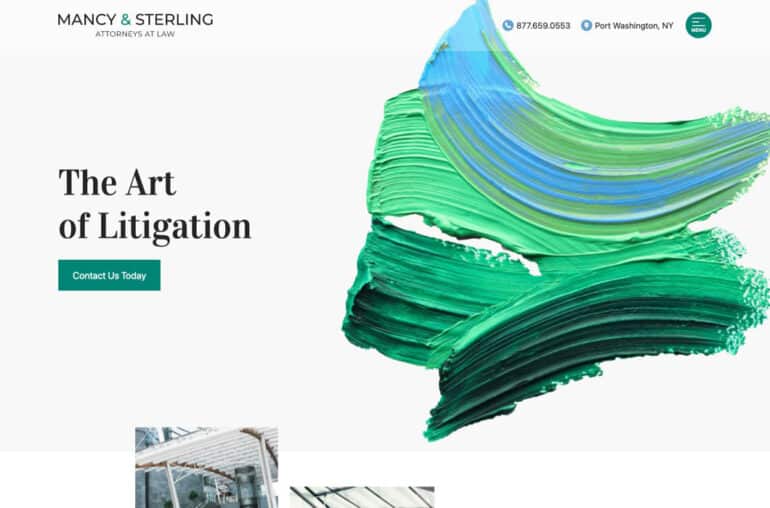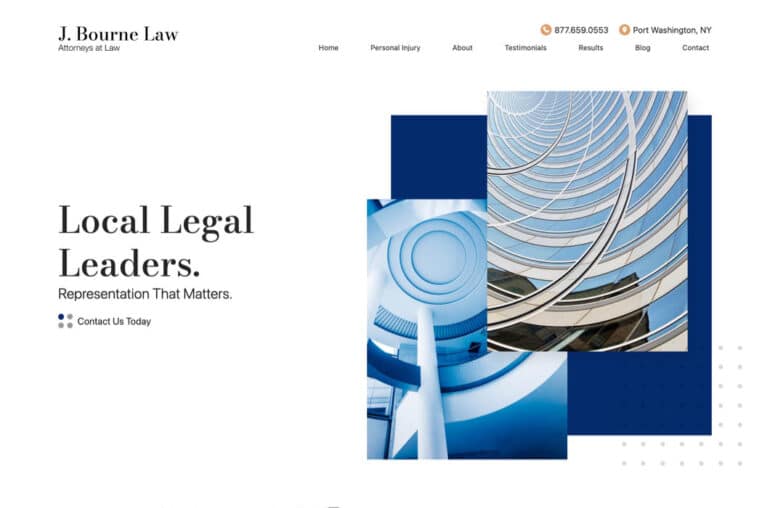 In-Flex-ion Point: OneFirst Legal Delivers Ease of Use + Mobility
Let's talk about logistics – because, while it is kind of all about the design, there are mechanics as to how this all works.  Many subscription website providers will utilize a proprietary CMS (content management system = how you load text + images that appear on the website), which means: if you move off of the subscription provider, you don't have access to the website anymore.  That's a bummer, for sure.  But, OneFirst uses a WordPress CMS (backend), which means that, if you decide to move on from your subscription, you don't lose your entire website + you can go work with another WordPress provider (minus the OneFirst elements).  The service also offers a text-based wordmark that is used as a logo (with additional design elements being offered a la carte), which also travels with the website, if you move on to another provider.  A practice area-specific content library, written by actual lawyers, is included, too.  You've got stock images (sized correctly! – so you don't have to crop anymore), at your disposal.  Subscribers will also get a Google Business Profile setup or refresh, for improved local search results.  And, all of the support to users is based in the United States
But, the OneFirst product is maybe just your first step into the Omnizant environment.  Once a law firm has access to the Omnizant website template of their choosing, and the other attributes alluded to above, there are additional services available.  Those would include: custom content from Omnizant staff attorneys, SEO services, social media maintenance and content provision, and more.
OneFirst arrives September 1.  And, remember, that setup cost is just $199, with a recurring monthly payment of $199/month – all without the long-term commitment that other vendors require.
Omnizant's OneFirst Legal is an omnibus solution for your law firm's website needs.
Attorney at Work's sponsored Product Reviews and Product Spotlights showcase news and features from legal technology industry leaders. For more information, click here.
Illustration ©iStockPhoto.com
Subscribe to Attorney at Work
Get really good ideas every day for your law practice: Subscribe to the Daily Dispatch (it's free). Follow us on Twitter @attnyatwork.